Happy Monday friends! It has been quite a bit since I've gotten up a Monday post for you but I think life is finally starting to get back to normal. I read a good amount in April but it had slowed down a bit in May because of the move! I need to make reading a priority still despite not taking the train to work anymore. That was my primary reading time but now I think I'll have to set aside an hour or so before bed!
These books were all GREAT! I think this is my favorite book review post so far honestly. There isn't a single book on this list that I didn't really enjoy. One of these might be my favorite book of all time which I think says quite a lot!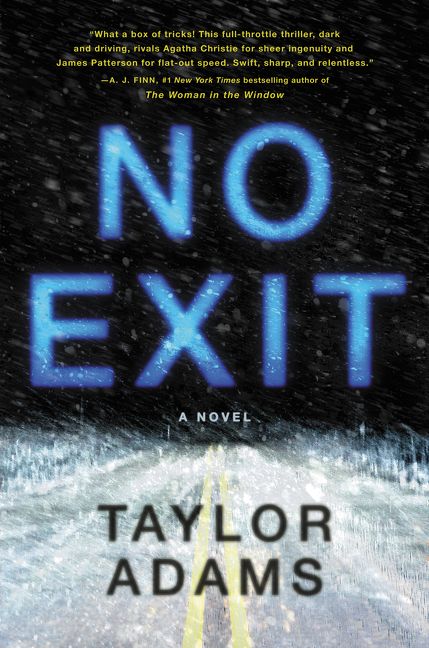 No Exit by Taylor Adams
Talk about a thriller! This one kept me on the edge of my seat LITERALLY the entire time. If you liked Woman in Cabin 10 or The River at Night I think you would really enjoy this one. This book tells the story of Darby Thorne who gets trapped at a remote rest stop in Colorado during a terrible blizzard. She is trapped there with 4 strangers and discovers that one of them has committed an unspeakable crime before they all ended up stranded together. Darby knows she has to do something but what can she do when there is no where to go and no one can be trusted? It was SO good guys. There were quite a few twists (most of which I saw coming) but it really is just full of action from beginning to end. You won't be able to put it down!
Rating--4.5/5
All We Ever Wanted by Emily Giffin
I really wanted to take a break from my usual suspense/thriller/mystery genre so I decided to pick up this latest book from Emily Giffin and I'm so glad I did. I have read 3 of her other books but it has been quite a while. I really enjoy her writing style and I just FLEW through this book. Nina Browning has a pretty privileged life--a rich husband and a son who just got into Princeton. Tom Volpe on the other hand has experienced his share of struggles especially living amongst Nashville's elite. These two are brought together when their two children become entangled in a school scandal. I don't really know what I expected of this book but I was pleasantly surprised. It delved into some difficult topics like sexual assault, bullying and more. I think parents (especially) would really enjoy this read! I'll definitely be scooping up another book or two by Emily Giffin.
Rating--4.5/5
Girls' Night Out by Liz Fenton & Lisa Steinke
This was one that I actually haven't heard anyone talk about but it popped up as a recommendation after I ordered No Exit. Even though the reviews on this one were pretty mixed on Amazon, I'm so glad that I picked it up! 3 long-time gal pals (Ashley, Natalie and Lauren) go on a trip to Mexico in hopes to repair their strained friendships while also escaping from some tough situations at home. One night after partying a little too hard, Lauren and Natalie wake up to find that Ashley is no where to be found. While frantically searching for Ashley, more secrets are revealed and they begin to question whether they can trust anyone--including each other. I actually liked it more than No Exit (even though No Exit had way more hype) and found the story more interesting. I will say that the writing style is a little confusing because it jumps back and forth between different timelines and also between the three main characters at different points in time. Once you're a few chapters in, you get used to it and it's easy to follow. I HIGHLY recommend!
Rating--5/5
It Ends With Us by Colleen Hoover
This was my latest read and y'all...where do I even begin?! This book was INCREDIBLE and when I shared how much I loved it on my IG stories, I received SO many messages from y'all telling me how much you loved it too. The only other Colleen Hoover book I've read is Verity (see my review here) and while I loved that book, I don't think that was a true representation of her as an author because I think most of her books aren't in the mystery/thriller genre.This book tells the story of a girl named Lily (who, by the way, has to be one of my favorite book protagonists EVER). After attending the funeral of her abusive father, Lily meets a handsome doctor named Ryle by chance on a random rooftop in Boston. They have an immediate chemistry and though Ryle is a self-proclaimed player, he becomes instantly infatuated with Lily and their paths continue to cross in more ways than one. The story flashes between present day and also past journal entries from a high-school aged Lily who is developing a complicated relationship with a homeless boy named Atlas while also coping with witnessing the abuse of her mother. I read the description of the book and I thought it would be a typical romance about a girl torn between a man from her present and one from her past but this book is SO much more than that. It is INCREDIBLY heartbreaking but also such a triumph in so many ways. I don't want to say much more about the plot because y'all just need to go and read it if you haven't already! This has begun an obsession with Colleen Hoover and now I can't wait to devour more of her books although I can't imagine any topping this one.
Rating--5000000000/5. SO GOOD.